Description
The story of how you proposed will be told to friends and strangers for the rest of your lives (no pressure…) and we love arranging exciting and unique marriage proposals.  We'll help you make it the most special experience tailored entirely for you, so here are a few suggestions to give you inspiration for your destination proposal, you can of course tweak anything to make it just right for you and your fiance-to-be, or come up with something entirely different.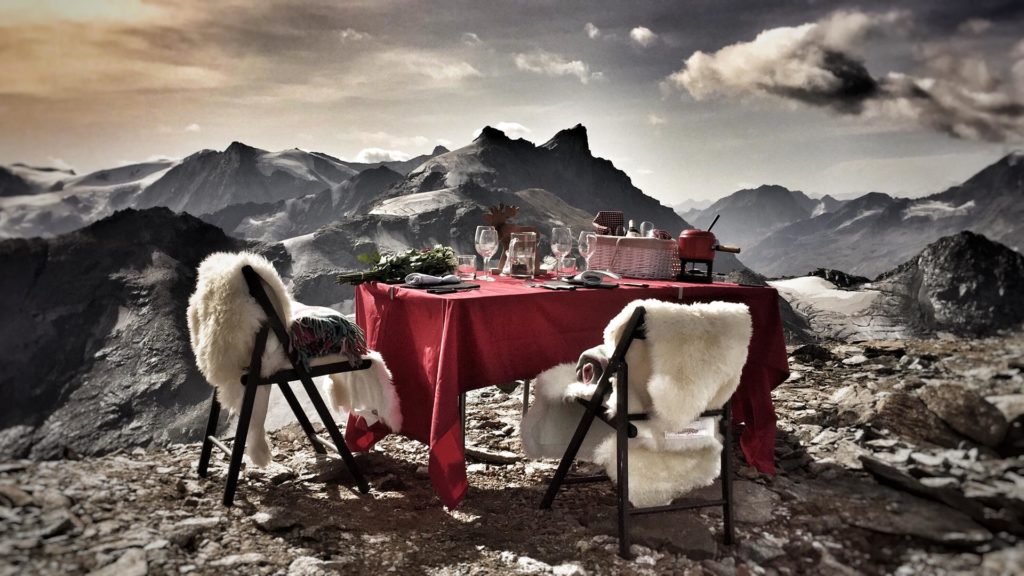 The ultimate romantic destination proposal spot is up on a glacier, so we can arrange for a panoramic helicopter ride up to take you from Verbier up to a glacier to propose in style, with spectacular views across the mountains, oysters, champagne and cosy warm furs waiting for you. You could also couple this with a heliski down virgin slopes.
Book a romantic dog sled trip for two which will take you off the beaten track to a romantic spot away from the masses.  You could hire a musician to play their favourite song upon arrival and can also couple this with a romantic champagne picnic in the snow.
Take a magical horse and sleigh ride from Sonalon to Marlenaz, and couple it with a romantic picnic with stunning views of Verbier below.
If you have special memories together in Verbier, choose your favorite place that means something to both of you, and when your fiance-to-be is not paying attention, drop down on one knee and present the ring.  We'll have champagne and gourmet surprises ready to be presented upon the 'yes'. If you are new to Verbier, we can suggest the perfect romantic spot.
Send your unsuspecting fiance-to-be on a treasure hunt around Verbier that ends with your proposal. Start with a clue at your hotel or chalet that leads to a tour of your favorite places all over town.
Rent a quad and invite your soon-to-be fiance for a ride, but remind them to be safe and wear a helmet. Hand over the helmet (with the ring box already in it), and then you can buzz around town to celebrate.
After a long day's skiing, leave your hotel for a few minutes together suggesting a quick après ski drink, after a short while, suggest you're tired and that maybe you need a nap before dinner, in the meantine, we'll have had enough time to make a trail of candles inside that leads to a circle of roses positioned around the ring, and a bottle of champage on ice.  By the time you come back, your hotel room or chalet will be glowing with romantic candles, leading the way to your new life together.
Arrange a romantic morning wake-up call with champagne and strawberries, and a private chef to cook the perfect pre-ski breakfast while you prose to your unsuspecting fiance-to-be.  Or if you don't want a private chef at breakfast, hire one for the night to cook a sumptious and romantic dinner, and ask the chef to write on a plate in decoprative writing 'will you marry me?'.
For the adventurous, book a paraglide flight for the two of you, and fly to a remote spot on the mountain overlooking Verbier, where a romantic picnic will be waiting. You could either hide the ring in the hamper of goodies waiting for you, or hold up a sign in mid flight saying 'will you marry me?'.
Hire a photographer to capture your proposal, but tell your partner you've won a romantic couple's photo shoot up the mountain. Get dressed up and then propose mid-shoot, and follow it up with a romantic engagement shoot.
When you get back from a chilly day skiing, run a hot bath and while your fiance-to-be is soaking, you (or we) can build a scene of a snowman proposing, and then once they're getting ready to go out, tell your soon-to-be-fiance to go outside. When they see the snowman, get down on one knee.
All of our proposals are bespoke and these are just guidelines to give you some inspiration, but we'd love to brainstorm some more ideas with you if you have something else in mind.