We caught up with Vincent the hottest helicopter pilot in town to hear more about what it's like to be a pilot in Verbier. If you come heliskiing or heli-lunching with us this winter, you can meet him!
Have you always been a pilot? If not, what did you do before?
Before being a pilot I was a ski instructor in Verbier for 10 seasons and in the summer I did a few things like rope works in the mountains. 
When did you realise you wanted to be a helicopter pilot?
Probably when I was watching the rescue helicopters helping people on the pistes and in the mountains…
What made you want to become a helicopter pilot?
Watching the birds along the ridges…
How long did it take to qualify and how old were you?
The basic training was five and a half months in Canada, followed by a few years of practicing in Switzerland and the South of France.
What does being a helicopter pilot entail in both the summer and winter?
A lot of flexibility… we are always dependent on the weather, especially the clouds and wind.
Which is the most beautiful place to take a panoramic flight over?
Above the Swiss Alps.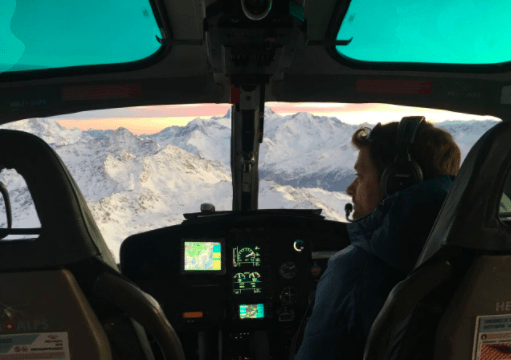 Where is the weirdest place you have landed?
That was in Nepal in a remote monastery high in the mountains, a place that seemed to be from a past century. The contrast of the technology of the helicopter and the life they were living hit me hard, it was weird…
What is the most romantic job you have ever done with your helicopter?
Bringing the bride and the groom up to the top of the mountain with the witnesses for champagne and a wedding ceremony (a wedding organised by Above & Beyond, of course! See our Adventure Weddings page for more info)
What is your favourite heliskiing destination?
Petit Combin facing Verbier is very beautiful, and there are lots of different possibilities of slopes to take down from there too.
What is your favourite bit about taking someone up in a helicopter for the first time?
The smile!! Before, during the flight and after…
When you're not flying helicopters, what are you doing and where do you hang out?
I like being in the mountains, walking, skiing…
If you can fly a helicopter, does that mean you can also fly a plane?
Two totally different things, different training and different exams
Where would be the most romantic place to fly to for a date?
To the moon… or to a little hut lost in the mountains…
What's the best bit and the worst bit about being a helicopter pilot?
The best is to be in the air! And the worst part is to always have to check the weather…
Apologies for asking this, but a lot of people in Verbier want to know, are you single?
"…"
Jean-Daniel leaves and milliseconds later, along comes Vincent… amazing timing and of course, flying skills!
Email us at inspiration@abverbier.com to book your heliskiing or heli-lunching trips this winter…